Our Patients
"I meant what I said and I said what I meant. An elephant's faithful one-hundred percent!" – Dr. Seuss
No Cavity Club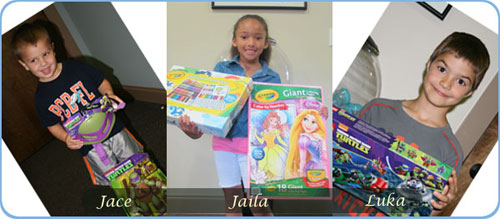 To be in the No Cavity Club, your child must maintain excellent dental health, avoiding foods that cause cavities and brushing and flossing properly. If children maintain a no-cavity checkup each visit, they are automatically entered into the Club. But don't worry -- if your child has cavities, they are entered into the club once the "sugar bugs" are gone and treatment is completed. Once each month, one patient will win a special gift for maintaining their good dental health and having no cavities.
Your first visit to Issaqueena Pediatric Dentistry will start with a welcoming smile from our reception desk. Your child will be greeted by name, and will enjoy the race car, Play Station 3 and PacMan games, life-size artwork and books in the waiting area. Then, your child can choose to have you come with them to the exam, or they may choose to have the exam on their own. After the exam, we will give you a complete report and discuss any concerns with you and your child.
Our exam room is spacious and comfortable, with super-comfy chairs and ceiling-mounted TV screens. Our team works together in one room for dental cleanings and check-ups, giving a sense of community, and helping your child feel like they are at a group event. We use the latest and most technologically advanced dental equipment, ensuring the very best possible care for your child.
Parent Testimonials
"Dr. Camille Horton is so kind and patient with children. She has seen my daughter numerous times now since that first visit, and she has turned a child that was very afraid into one that begs to go to the dentist."- Julie M.
New Patient Policy
We are a new Pediatric Dentistry practice and love our new patients. When you visit us for the first time, you will complete a set of forms that we will keep on file and update as necessary. These forms can be downloaded and completed before your first visit or you may complete them when you arrive.
Please arrive 15 minutes ahead of your appointment time to allow enough time to complete the forms. Also, remember to bring your insurance cards and all medical information regarding your child's overall health. If you are transferring your child from another dentist and wish to bring dental records and X-rays, please request those and bring them to your appointment, or you can e-mail them to pediatrics@issaqueenadental.com.